MANN-FILTER to take part in the ADAC GT Masters and the ADAC GT4 Germany in 2020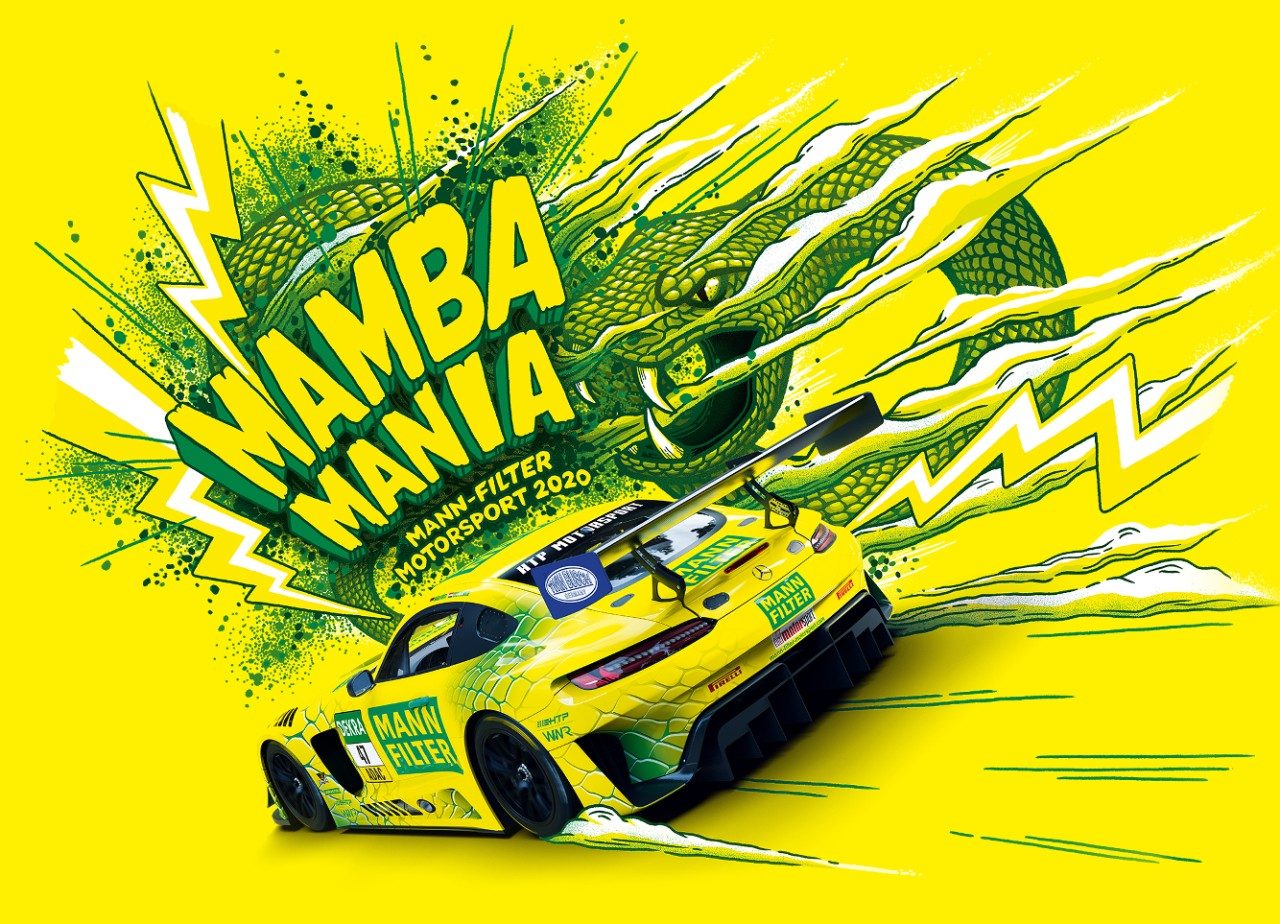 MANN-FILTER extends its partnership with HTP-WINWARD Motorsport 
Maximilian Götz and Indy Dontje set to team up again for the ADAC GT Masters in 2020 

Continuity assured for the ADAC GT4 Germany: Luci Trefz returns as Mini-Mamba driver
Ludwigsburg, 21 July 2020 - The MANN-FILTER premium filter brand is sticking to a winning formula and extending its motorsport commitment for the 2020 season. Together with HTP-WINWARD Motorsport, which has merged with US racing team WINWARD Racing under a new team name, we will once again battle it out for the championship title in the ADAC GT Masters. Also on board will be our two Mamba team drivers Indy Dontje (27, Netherlands) and Maximilian Götz (34, Uffenheim). The established GT3 drivers won the bronze medal for third-best driver pairing last year and will once again be competing for the championship title in 2020.
The new Mercedes-AMG GT3 in the familiar yellow and green MANN-FILTER livery boasts a number of technical enhancements following homologation and promises improved performance.
The MANN-FILTER Team HTP-WINWARD will complete in all seven events of the 2020 ADAC GT Masters series. The season will get underway at the Lausitzring at the end of July, while the Oschersleben Motorsport Arena will host the season finale, where the new champions will be crowned in early November.

Having said that, it is currently impossible to predict whether there will be further postponements. Fans will find a continuous supply of all the latest information on the MANN-FILTER social media channels!

The racing calendar at a glance:

•    31 July – 02 August 2020 Lausitzring
•    14 August – 16 August 2020 Nürburgring
•    18 September – 20 September 2020 Hockenheim
•    02 October – 04 October 2020 Sachsenring
•    16 October – 18 October 2020 Red Bull Ring (A)
•    30 October – 01 November 2020 Circuit Zandvoort (NL)
•    06 November – 08 November 2020 Motorsport Arena Oschersleben

Developing young talent will once again be high on the agenda for MANN-FILTER this season. Last year marked the emergence of talented young driver Luci Trefz (18, Wüstenrot). The Mini-Mamba driver caused a sensation by being crowned GT4 European Series Champion with the Mercedes-AMG GT4 and scoring his first ADAC GT4 Germany race victory. The little sister of the Mercedes-AMG GT3 will once again be taking part in the ADAC GT4 Germany season in 2020. Joining Luci in the Mini Mamba will be Julien Apotheloz, an 18-year-old racing driver from Switzerland. The ADAC GT4 Germany series is part of the ADAC GT Masters and will involve six events (no participation at the event at the Lausitzring).

HTP-WINWARD Motorsport team boss Christian Hohenadel is optimistic for the new season: "We're delighted to be extending our partnership with MANN-FILTER. The trust people are showing us makes us especially proud. Naturally, we want to give something back and we'll be doing our utmost this season to join forces and battle it out for the championship title."

"Four fast drivers, a big and a small Mamba – there's some exciting racing action in store for the 2020 motorsport season. MANN-FILTER is ready for the new challenge and looking forward to the season!" adds Dr. Uwe Hartmann, Director Brand Management MANN-FILTER.

As usual, all racing events in the ADAC GT Master and ADAC GT4 Germany will be broadcast live on German TV channel Sport1.
Contact
Kersten Solacroup
+49 (0) 7141 98 – 2260
kersten.solacroup@mann-hummel.com
About MANN+HUMMEL
MANN+HUMMEL is a leading global expert for filtration solutions. The company group with its headquarters in Ludwigsburg, Germany, develops filtration solutions for automotive and industrial applications, for clean air in indoor and outdoor spaces and for the sustainable use of water. In 2019, the group achieved sales of approx. 4.2 billion euros worldwide with more than 22,000 employees at more than 80 locations. The products manufactured by the group include air cleaner systems, intake manifold systems, liquid filter systems, plastic components, filter media, cabin air filters, industrial filters as well as membranes for water filtration, wastewater treatment and process applications.
Further information about MANN+HUMMEL can be found at https://www.mann-hummel.com