ADAC GT Masters: MANN-FILTER on the podium in front of a home crowd
The ADAC GT Masters Fan Festival attracted a large audience to the Hockenheimring. In the second race, the Mercedes duo Maximilian Buhk / Raffaele Marciello earned a podium finish. MANN-FILTER Junior Luci Trefz collects points on Saturday.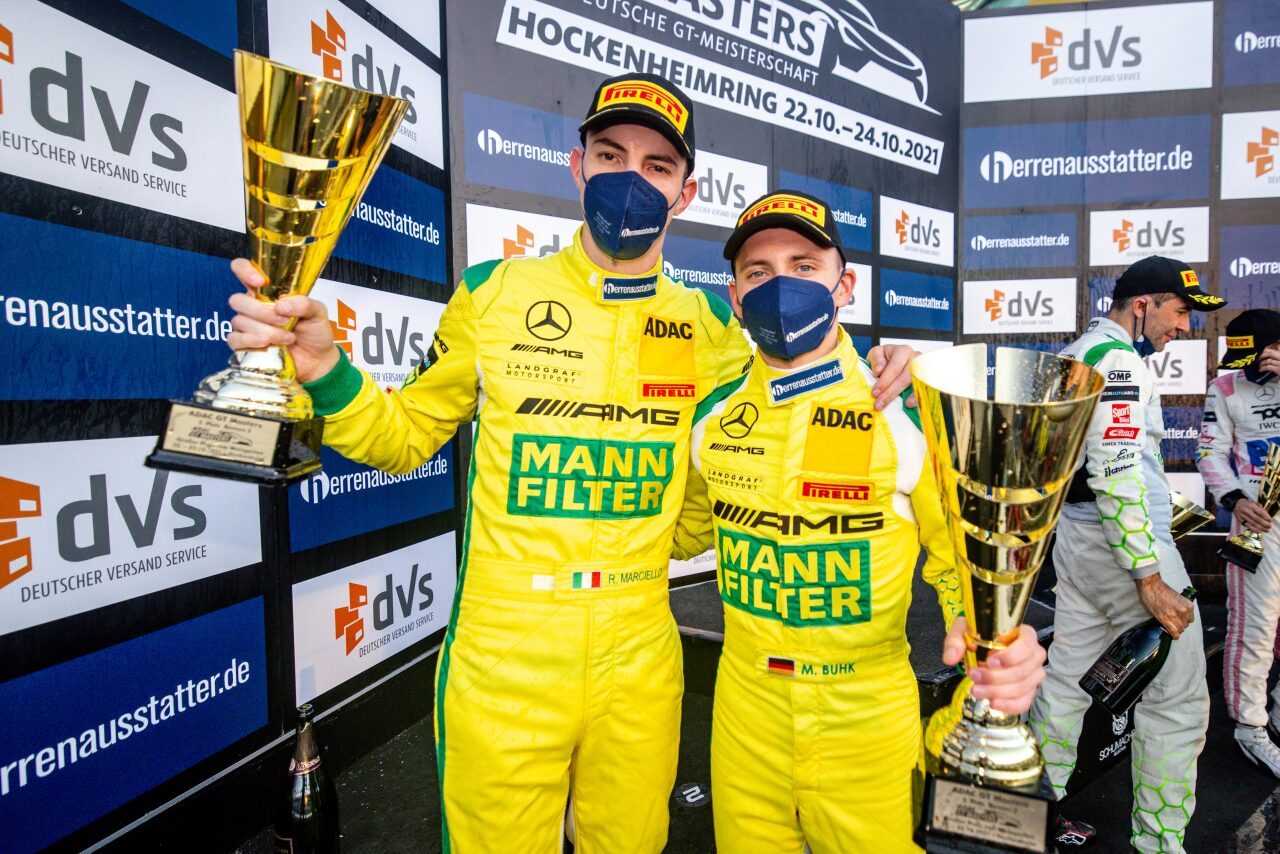 MANN-FILTER Duo on podium
Ludwigsburg, October 25, 2021 - The ADAC GT Masters semi-final was characterized by success for MANN-FILTER, whose main location is located only about 100 km away from the Hockenheimring. Finishing in second place on Sunday's race, the MANN-FILTER Team LANDGRAF–HTP/WWR drivers Maximilian Buhk and Raffaele Marciello are continuing their exciting fight for the 2021 championship title. On Saturday, the Audi driver and MANN-FILTER Junior Luci Trefz put in an exciting chase, earning seven points.
The MANN-FILTER home game took place last weekend surrounded by a picturesque countryside: Golden October weather and a lot of sunshine attracted a fair number of spectators to the Hockenheimring to experience the extolled ADAC GT Masters Fan Festival live. During the pit walk, MANN-FILTER provided the audience with autograph cards, flags, and yellow and green caps, which were clearly visible in the stands. With a length of 4.574 kilometers, the Grand-Prix course is the longest on this year's racing calendar and very popular among the spectators. After two eventful races, MANN-FILTER remains a contender for the title.
Rapid comeback for Audi Mamba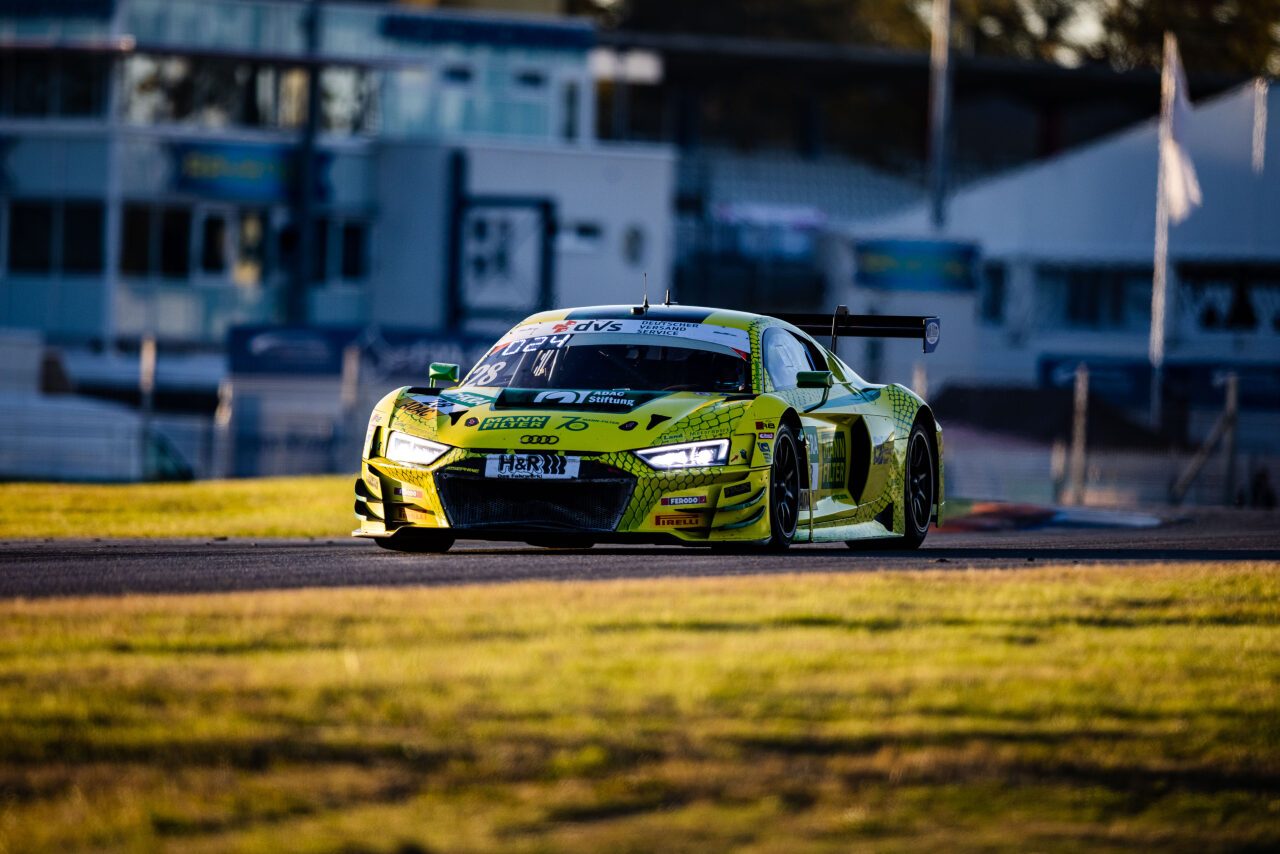 Audi Mamba Hockenheimring
In the first race, all eyes were initially on the Audi Mamba from Team Land Motorsport. Starting in position 23, the MANN-FILTER Audi duo Christopher Haase (34, Germany) and Luci Trefz (19, Germany) gave a strong performance this day. After a turbulent start, the junior driver managed to escape the chaos and make up a good five places or so. After exciting fights and skillful overtaking maneuvers, he handed over the steering wheel to his team mate, Audi Sport driver Christopher Haase, who was in 18th place and, thanks to a rapid catch-up case, acquired ninth place and seven points for himself and his protégé. "A very good race," says Trefz happily. "Important points for us! It was a lot of fun. To top it all off, the atmosphere in front of lots of spectators was great, and their visits during the autograph sessions provided a lot of motivation."
No points for the MANN-FILTER Team
However, the good performance put in by the MANN-FILTER Team LANDGRAF–HTP/WWR remained unrewarded. AMG works driver Raffaele Marciello (27, Italian) started the race in ninth place and was initially able to make up a few positions. After the driver change, Maximilian Buhk (28, Germany) took over the wheel of the Mercedes AMG GT3 and crossed the finish line, placing fifth overall.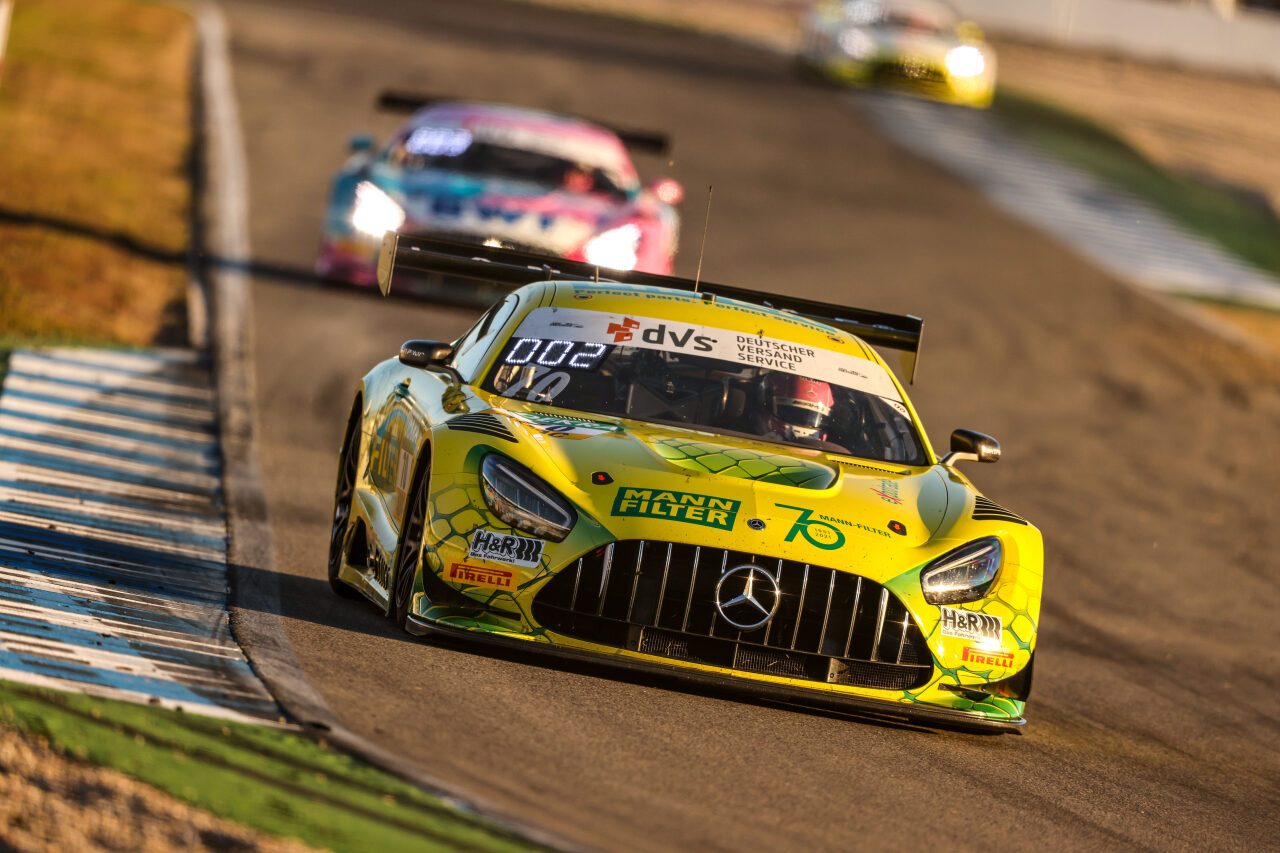 Mercedes Mamba at ADAC GT Masters at Hockenheimring
However, the Mercedes Mamba Team subsequently received a 30-second penalty, which put the two of them back into 21st place. Without any points, the duo fell back in the fight for the championship. "The car was very good, and I was able to make up a few positions in the race", tells Mercedes driver Raffaele Marciello in summary. "Fifth place would have been good for the championship. It wasn't exactly a positive weekend for us."
A podium finish for the MANN-FILTER Team on Sunday's race
On Sunday morning, Maximilian Buhk gave a captivating and strong qualifying performance. With the third fastest lap times, the 28-year-old secured a starting position in the second row. He praised the team, saying, "We did a good job in qualifying." At the start, Buhk stood firm against the competition. He overtook the second place driver and remained unaffected by two safety car phases. Raffaele Marciello took over the reins of the Mercedes Mamba halfway through the race and kept his opponents in check until the end. The duo crossed the finish line in second place overall, happy once again with another podium result. "Today, we achieved the maximum," summarized Maximilian Buhk afterwards. "We are looking forward to the Nürburgring and will then give it all we've got again."
In the driver's championship, the MANN-FILTER duo is 26 points behind – in fourth place. A total of 56 points will be awarded at the finale at the Nürburgring. The fight for the ADAC GT Masters title in 2021 remains exciting.
Pech für die Audi Mamba
Einen unglücklichen Rennverlauf hatte am Sonntag dagegen das Land Motorsport Team. Christopher Haase ging von Platz 14 ins Rennen, musste jedoch schon kurz nach dem Start mit einem Reifenschaden an die Box, was das Duo auf den letzten Platz zurückwarf. Mit stumpfen Waffen kämpften sie sich nach vorne, doch ein Aufschließen ans Feldende war nicht mehr möglich. Merklich enttäuscht äußert sich MANN-FILTER Junior Luci Trefz: "Es war ziemlich langweilig für mich. Ich bin mein eigenes Rennen gefahren. Ohne Reifenschaden wären wir sicherlich nochmal in den Top-10 gewesen."
Das MANN-FILTER Heimspiel war von einigen Höhen und Tiefen geprägt. Mit einem Podiumserfolg und einem Top-10 Resultat im Nacken liegt der Fokus jetzt auf dem großen ADAC GT Masters Finale. Bereits in zwei Wochen gastiert die Serie am Nürburgring (5.-7. November 2021). MANN-FILTER geht hoch motiviert an den Start, um im Kampf um den Meisterschaftspokal mitzumischen. 
About MANN+HUMMEL

MANN+HUMMEL is a leading global expert for filtration solutions. The company group with its headquarters in Ludwigsburg, Germany, develops filtration solutions for automotive and industrial applications, for clean air in indoor and outdoor spaces and for the sustainable use of water. In 2019, the group achieved sales of approx. 4.2 billion euros worldwide with more than 22,000 employees at more than 80 locations. The products manufactured by the group include air cleaner systems, intake manifold systems, liquid filter systems, plastic components, filter media, cabin air filters, industrial filters as well as membranes for water filtration, wastewater treatment and process applications.
Visit https://www.mann-hummel.com/ for more information on MANN+HUMMEL.