MANN-FILTER has the ADAC GT Masters championship in its sights
Next up for the MANN-FILTER Team LANDGRAF is the ADAC GT Masters finale from 21st to 23rd October at Germany's Hockenheimring. Currently holding an impressive 42-point lead in the rankings, they're now firmly focused on the goal of becoming "ADAC GT Masters Champions 2022". This highly coveted victory in the super sports car racing league is what the entire team have sought for so long.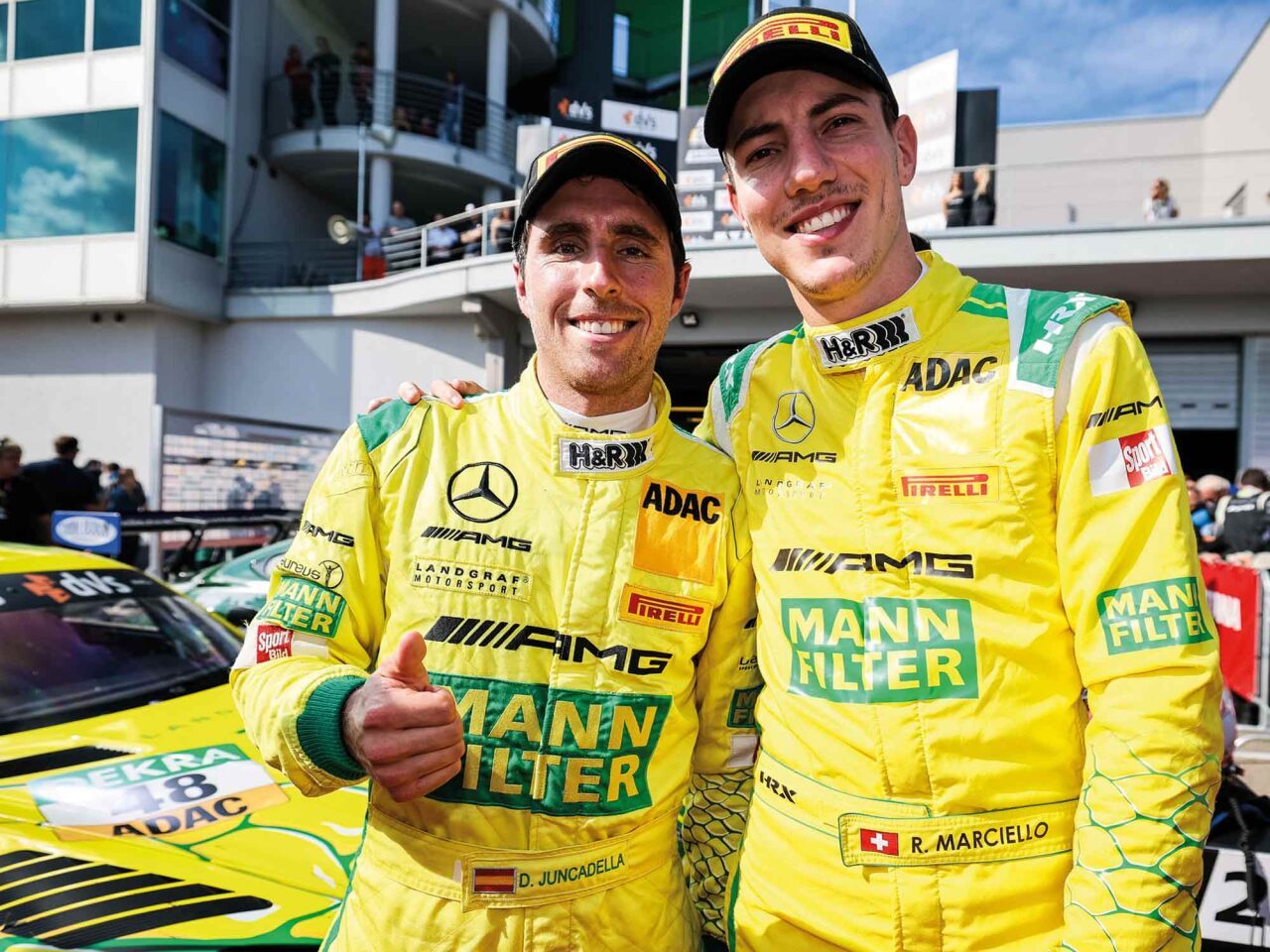 Mamba drivers Marciello/Juncadella/ (from right.)
Ludwigsburg, October 14, 2022 – Just a few days ago, the MANN-FILTER Team LANDGRAF with their two Mamba drivers, 44-year-old Austrian Martin Konrad and fellow countryman Alex Hrachowina, also 44, already staked out their claim to the International GT Open AM Championship 2022. What caused jubilation and tears of joy in Monza, Italy, is to be repeated in a few days' time. The ADAC GT Masters is set to crown its champions this weekend, and hopes are pinned on the lead racer, 27-year-old MANN-FILTER pilot Raffaele Marciello from Switzerland. With the support of 31-year-old AMG driver Daniel Juncadella of Spain and a sizeable points lead lending momentum, the chances of winning are better than ever. 
And with all the excitement driving the championship title, the MANN-FILTER juniors Elias Seppänen (19, of Finland) and Frank Bird (23, of Great Britain) are likewise highly motivated to expand on their top-ten successes.
Grand finale at the Hockenheimring home track
Whereas last year a change of venue saw the finale take place at the Nürburgring, the ADAC GT Masters this year will once again hit the home stretch at the Hockenheimring. Not only has this 4.574-kilometer-long Grand Prix racetrack produced a number of Mercedes podium spots in recent years, but, situated less than 100 kilometers from the headquarters of the premium filtration brand MANN-FILTER in Ludwigsburg, it's also the home track in this year's motorsports calendar.
The motivation is strong, the MANN-FILTER beast mode is "on fire", and the victor's trophy within closer reach than ever before!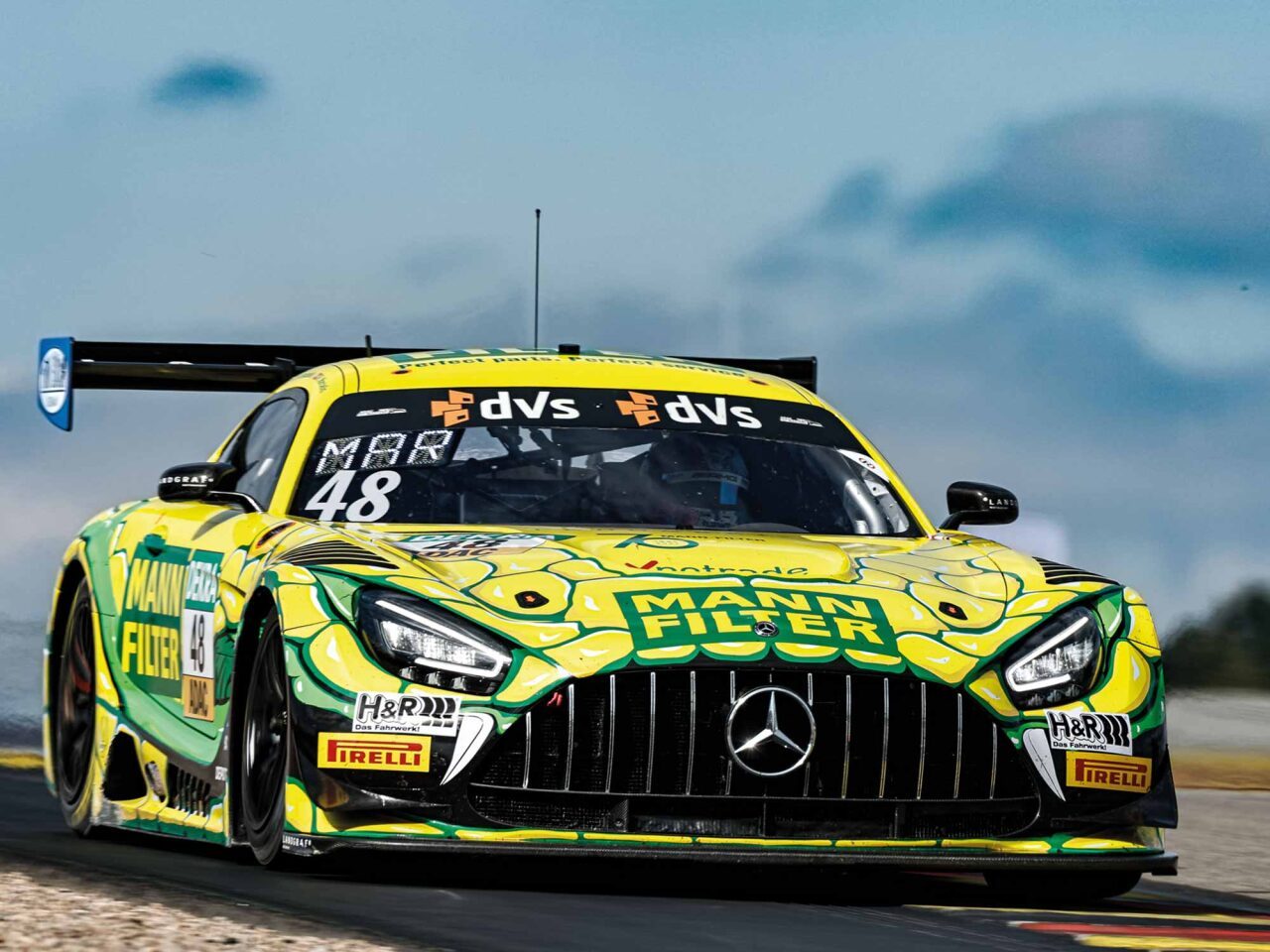 MANN-FILTER Mamba #48
The chase is on for Raffaele and Juncadella

The MANN-FILTER Team LANDGRAF is traveling to the Hockenheimring with big ambitions. While his 42-point lead may give Raffaele Marciello a comfortable ace up his sleeve, resting on his laurels is no option. Together with Daniel Juncadella, the two Mercedes Mamba drivers will be the hunted quarry this weekend, and not the only ones fighting for the championship. With 56 points yet to be won in the series, their competitors will miss no opportunity to put pressure on the MANN-FILTER dream team.

"Nothing's been won yet," Raffaele Marciello knows well. "We have to continue pushing. I'm really looking forward to this weekend! The team is well prepared, Dani and I have been driving a lot together, and are ready to roll. Our mission now is to make no mistakes."

That means withstanding pressure from the hunters, avoiding any unnecessary duels, and soft-pedaling where needed, rather than resisting. Keeping a cool head will be the biggest challenge this weekend.
Team colleague Daniel Juncadella is the best thing going when it comes to lending his buddy a hand: "I'm really very excited about this weekend. My big goal is to support Lello to win the championship. I'm hoping that we can take the title already on Saturday, so then Sunday will be more relaxed. The car is well prepared, the team is doing a fantastic job, and I see nothing negative that would thwart our victory."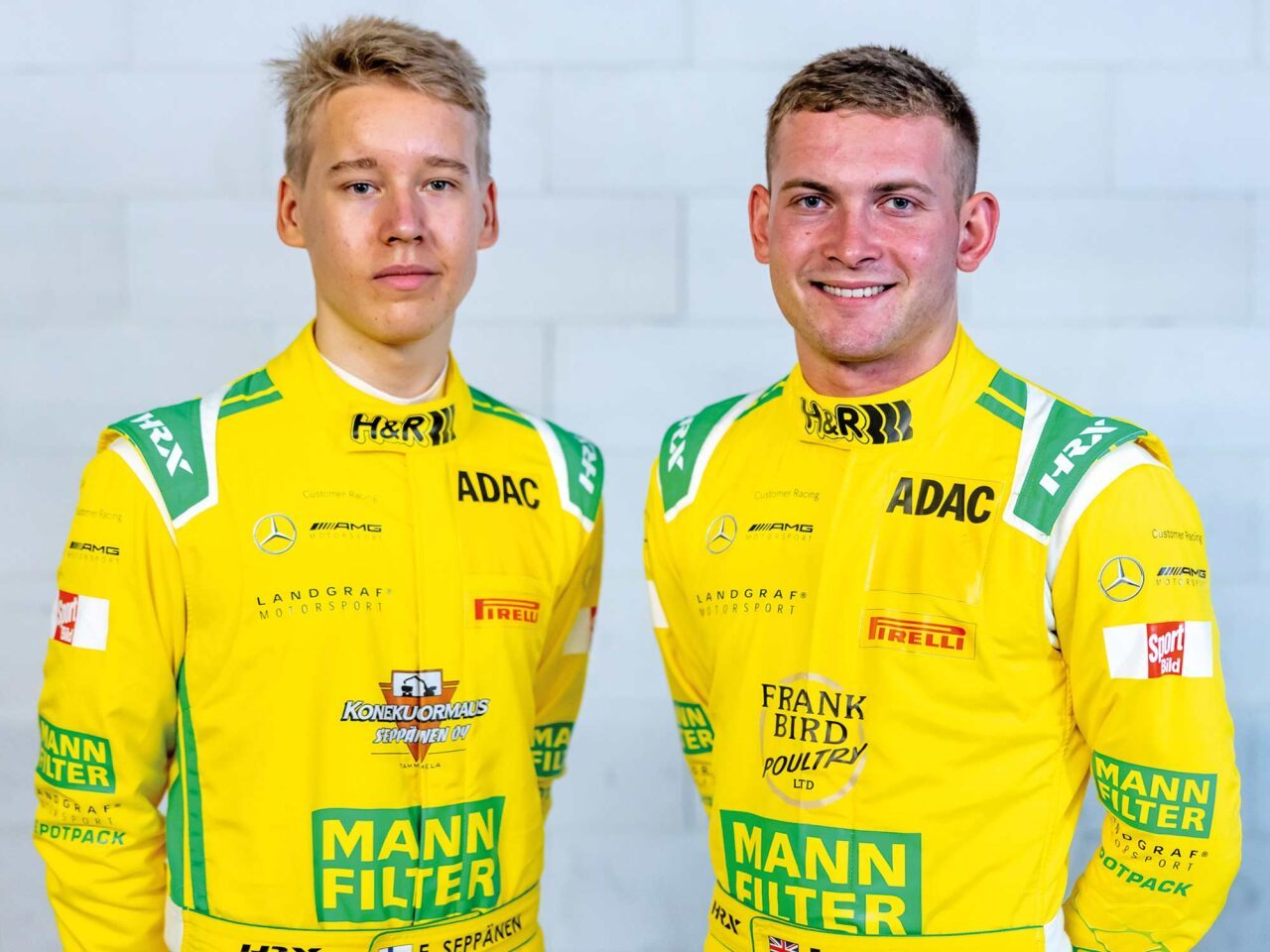 Mamba drivers Bird / Seppänen (from right.)
MANN-FILTER juniors highly motivated for the season finale

The two MANN-FILTER junior pilots Frank Bird and Elias Seppänen driving the sister Mamba are heading into the final racing weekend with less pressure on their shoulders. Both have performed impressively this season, demonstrating steady improvement from race to race. Their learning curve was unwaveringly steep, and they finished in the top-ten ranking almost habitually.

For the ADAC GT Masters finale, the junior drivers won't let themselves get distracted by all the hubbub surrounding the title race. In this final racing weekend, Elias and Frank simply want to show once more what they've learned this season, and offer some racing thrills. 
Double championship chances: MANN-FILTER tipped for success in the team evaluation, too
Besides the drivers ranking, the MANN-FILTER Team LANDGRAF also hopes to take home the team championship this year. The Mercedes team with its two-car stable is currently tied with Emil Frey Racing for first place in the team points rankings. MANN-FILTER was first crowned team champion in 2018. Four years later, it's high time to win back the title.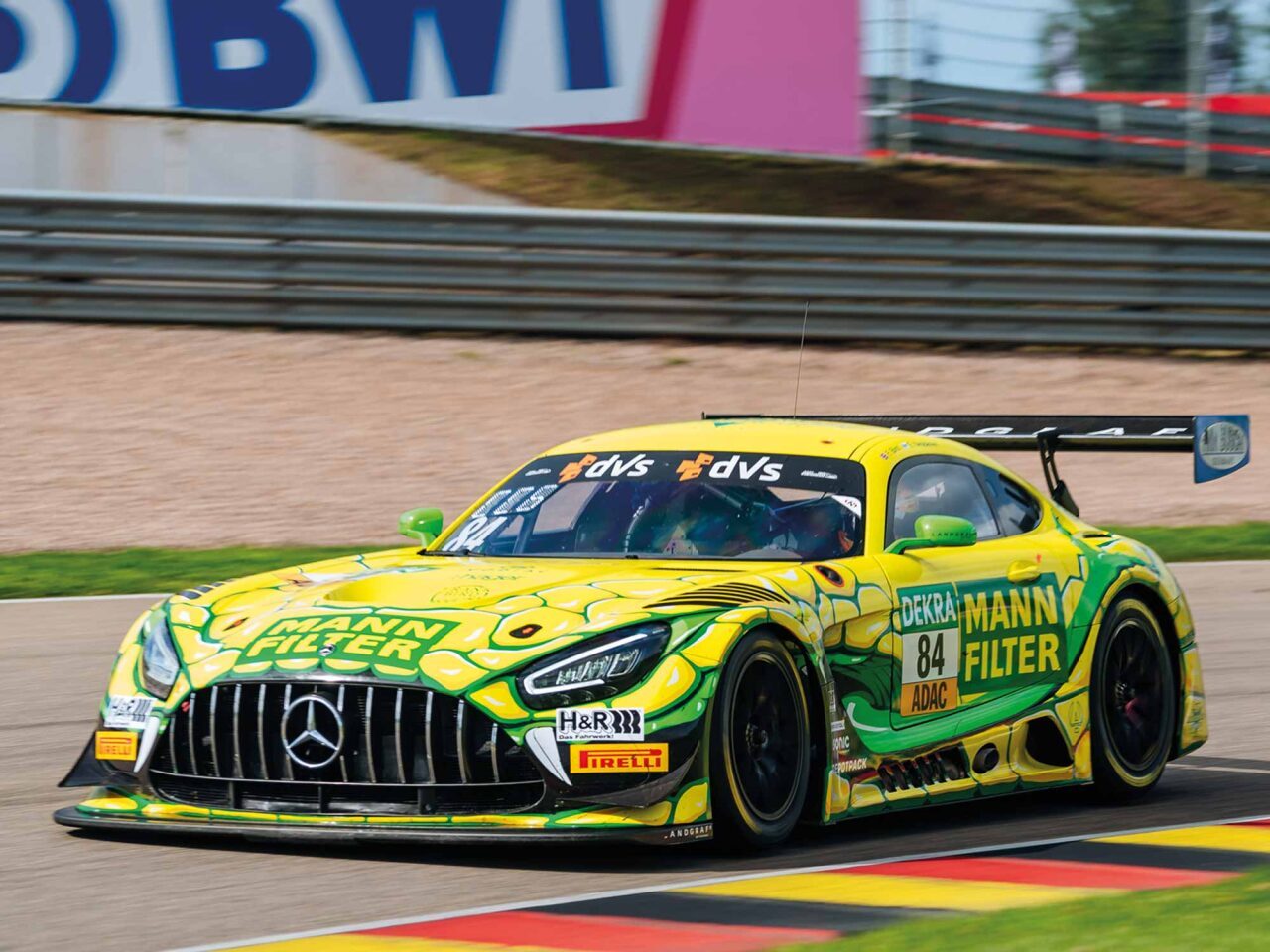 MANN-FILTER Mamba #84
Beast mode right through to the final second

Things will get exciting at the season final of the "super sports cars league", and the motivating slogan this weekend will be a resounding "Beast mode: ON!" at MANN-FILTER. Both Mercedes race cars stand ready in the starting blocks, and the tension is higher than it's been for a good long time. 
MANN-FILTER sponsoring manager Filippina Manou is thrilled about the upcoming racing finale: "The level of excitement is incredibly high. Through various channels, we pick up on how our customers and fans are rooting for us. We're very proud of the journey we've been on this year with the team. We succeeded already in the AM Class at the international GT Open, and now we're all FULLY FOCUSED on the German GT championship. Anything is still possible, so we can't just sit back and rely on the point advantage. Yet, with Raffaele, Dani, and our Team Landgraf, I know that the Beast Mode will hold steady right through to the final second. Keep your fingers crossed!"
The big ADAC GT Masters title showdown will be broadcast live as usual in Free TV on NITRO and can also be viewed via RTL+ live stream. All MANN-FILTER fans are invited to put on their yellow-green shirts and caps, grab their yellow-green flags, generate some excitement in the stands, and join in the championship with track-side fan support! Background stories all about the mission of "Taking the Title" are being shared on the familiar social media pages.

For the last time this year, those famous words will sound from the speakers, "Drivers, start your engines" – which for the MANN-FILTER Team LANDGRAF will mean: Beast Mode ON! 
About MANN+HUMMEL
MANN+HUMMEL is a world leader in filtration technology. The Group's headquarters is in Ludwigsburg, Germany. Through its two business fields, Transportation and Life Sciences & Environment, it develops intelligent filtration and separation solutions to enable clean mobility, clean air, and clean water. This is how the family-owned company founded in 1941 is making an important contribution to a clean world and the sustainable use of limited resources. In 2021, the Group achieved sales of 4.2 billion euros, and it has more than 23,000 employees at over 80 locations.

Visit https://www.mann-hummel.com for more information on MANN+HUMMEL.