New MANN-FILTER Catalogs 2022/23
MANN-FILTER print catalogs available in 12 languages, offering 3,000 pages of the right products for over 64,000 vehicles and machines. New individual catalogs can be ordered from the MANN-FILTER online shop for advertising materials.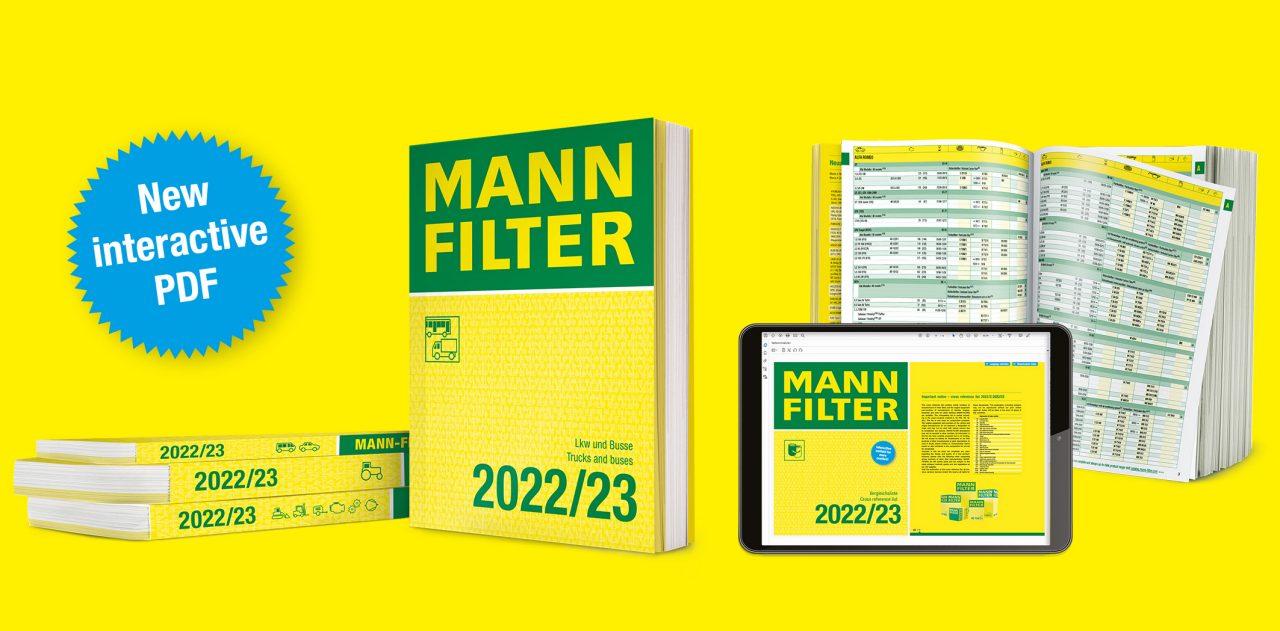 Ludwigsburg, February 8, 2022 – Back in store from mid-February. The new product catalogs from the premium filtration brand MANN-FILTER are available for experts from dealerships and workshops. More than 100 new filter types for the latest passenger cars, trucks and off-highway models complement the already wide range of filters in original equipment quality. The catalogs offer over 5,000 filter elements for more than 64,000 vehicles and machines for the European spare parts market. 

New individual catalogs offered for the first time
The catalog set is divided into four yellow-green individual catalogs for different application areas. This year's version includes new editions for the categories "Passenger cars and vans" and "Trucks and buses." The previous catalog for "Off-highway applications and industry" has been split for the first time into two new individual catalogs: "Construction machinery and industrial applications" and "Agricultural machinery."
Expanded recodings
The "Comparison list" in PDF format has also been updated and now contains over 217,000 recodings. For the first time, all catalogs are also available as interactive electronic PDF files for browsing with many quick access functions. The digital versions are available for download from the MANN-FILTER website in the service section.
Available for ordering from the MANN-FILTER online shop for advertising materials
Workshops and dealers will continue to receive the new catalogs free of charge and, for the first time, directly from the MANN-FILTER online shop for advertising materials: http://businessshop.mann-filter.com.
About MANN+HUMMEL

MANN+HUMMEL is a world leader in filtration technology. The Group's headquarters is in Ludwigsburg, Germany. Through its two business fields, Transportation and Life Sciences & Environment, it develops intelligent solutions to enable clean mobility, clean air, and clean water. This is how the company is making an important contribution to a clean world and the sustainable use of limited resources. In 2020, the Group achieved sales of 3.8 billion euros, and it has more than 21,000 employees at over 80 locations.
The solutions include filter media and simulation technology, liquid filters, air filters, and suction systems for different mobility and industrial applications, along with membrane technologies for communal and industrial water and sewage treatment and for use in sensitive process applications, such as food production and biotechnology. The family business was founded in 1941 and also offers air and molecular filtration technologies for building filtration, industrial applications, and cleanrooms. Our holistic solution approach to clean air is rounded off by stationary and mobile air cleaners for use in interior spaces, half-open surroundings, and outdoor areas. Depending on the application, these units filter out viruses, free allergens, bacteria, fine dust, and nitrogen oxides from the ambient air.
Visit https://www.mann-hummel.com/en.html for more information on MANN+HUMMEL.