Premium filter for synthetics
Carbon-neutral combustion engine: MANN-FILTER now also offers filters for off-highway vehicles that are compatible with synthetic fuels.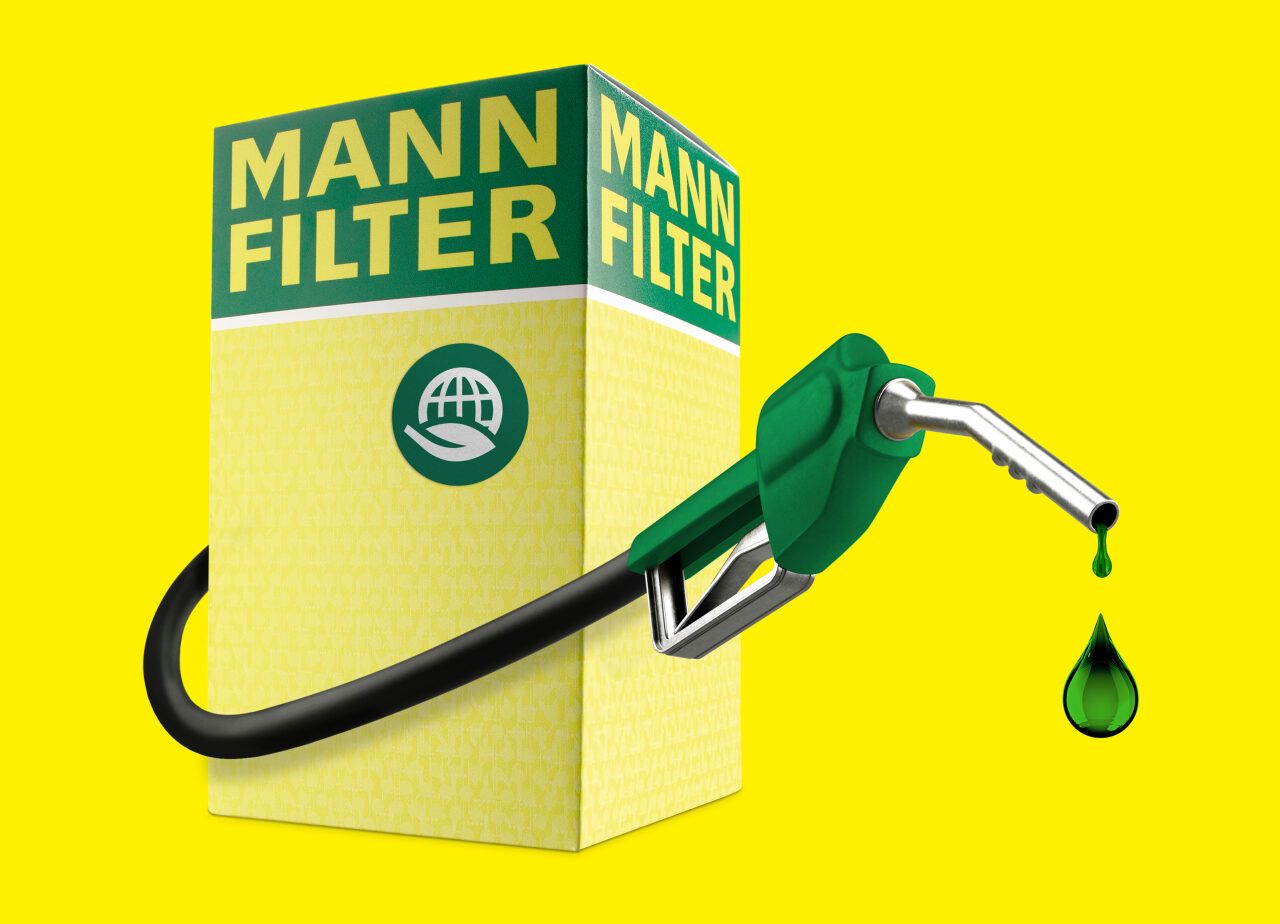 MANN-FILTER used with synthetic fuels
Ludwigsburg, February 28, 2022 – Climate change is one of the biggest dangers facing humanity and requires urgent action. Due to their high payloads and long working hours, agricultural and construction machinery require energy sources with high-energy density and short refueling times. Synthetic fuels can be used to achieve relevant CO2 savings. They are easy to transport and refueling is possible within a short period of time via an existing infrastructure. Synthetic fuels can be produced sustainably from biomass – for example straw – or organic waste such as used vegetable oil. Electrofuels or e-fuels are synthetic fuels produced using renewable electricity from water and carbon dioxide, for example. Synthetic fuels allow greenhouse gas-neutral operation of conventional gasoline and diesel engines.
The premium MANN-FILTER brand of the global filtration specialist MANN+HUMMEL already offers various fuel filters for off-highway vehicles that are compatible with synthetic fuels. Dr. Björn Schmid, Director of Material Development at MANN+HUMMEL, explains: "Synthetic fuels can be aggressive to some types of elastomer seals and can leach plasticizers from the fuel filter sealing ring. As a result, a seal can lose up to ten percent of its volume. In the worst case, this can even cause fuel to flow out and the filter to come loose while driving."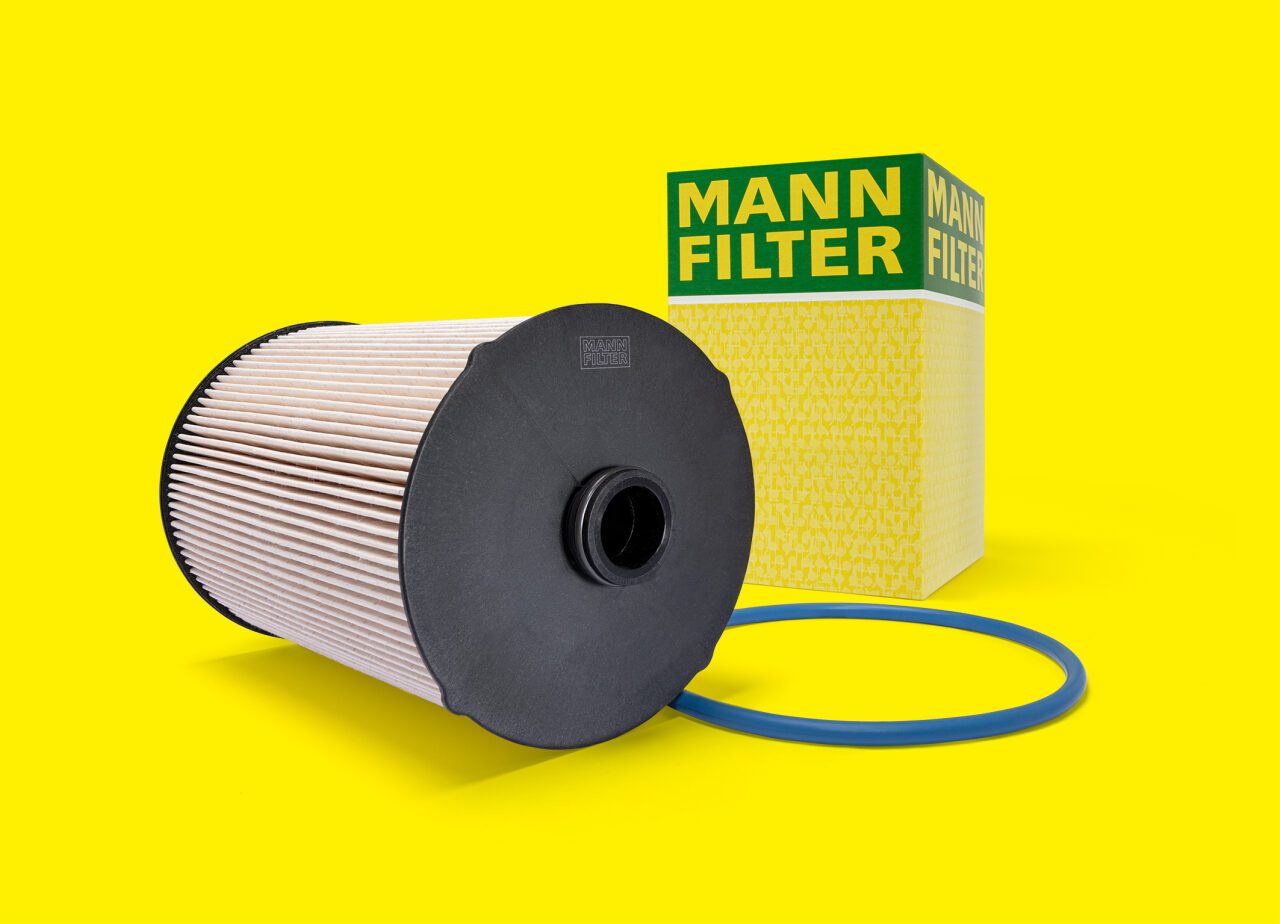 Filter for agricultural and construction machinery compatible with synthetic fuels
The seal materials in MANN-FILTER fuel filters for synthetic fuels according to DIN EN 15940 have been tested, are ideally suited for the application, and have the relevant OE approvals. They ensure a permanent hold and a complete seal of the filter.
MANN+HUMMEL has already started series production of these highly efficient fuel filters for various off-highway manufacturers. In the independent aftermarket for agricultural and construction machinery, for example, the MANN-FILTER PU 10 020 x is available for Claas and New Holland Construction in original equipment quality. This is just one of the MANN-FILTER fuel filters for synthetic fuels, and the range is being consistently expanded.

"The mobility of the future will certainly consist of a mix of different drive technologies, and liquid fuels will still be required for quite some time, such as for heavy mobile machinery, where high availability is required under the toughest conditions. Here, synthetic fuels can make an additional contribution to effective climate protection," says Schmid. To meet the challenges ahead, MANN+HUMMEL experts are developing the filters of tomorrow in the vehicles of today. After all, customers should also be able to rely in the future on: MANN-FILTER – Perfect parts. Perfect service.
About MANN+HUMMEL

MANN+HUMMEL is a world leader in filtration technology. The Group's headquarters is in Ludwigsburg, Germany. Through its two business fields, Transportation and Life Sciences & Environment, it develops intelligent solutions to enable clean mobility, clean air, and clean water. This is how the company is making an important contribution to a clean world and the sustainable use of limited resources. In 2020, the Group achieved sales of 3.8 billion euros, and it has more than 21,000 employees at over 80 locations.
The solutions include filter media and simulation technology, liquid filters, air filters, and suction systems for different mobility and industrial applications, along with membrane technologies for communal and industrial water and sewage treatment and for use in sensitive process applications, such as food production and biotechnology. The family business was founded in 1941 and also offers air and molecular filtration technologies for building filtration, industrial applications, and cleanrooms. Our holistic solution approach to clean air is rounded off by stationary and mobile air cleaners for use in interior spaces, half-open surroundings, and outdoor areas. Depending on the application, these units filter out viruses, free allergens, bacteria, fine dust, and nitrogen oxides from the ambient air.
Visit https://www.mann-hummel.com/ for more information on MANN+HUMMEL.