First MANN-FILTER race in 2023 at the Bathurst 12 Hour
MANN-FILTER and partner GruppeM start at the opening race of the Intercontinental GT Challenge 2023. Maro Engel (GER), Mik Grenier (CAN) and Raffaele Marciello (SUI) will share the cockpit.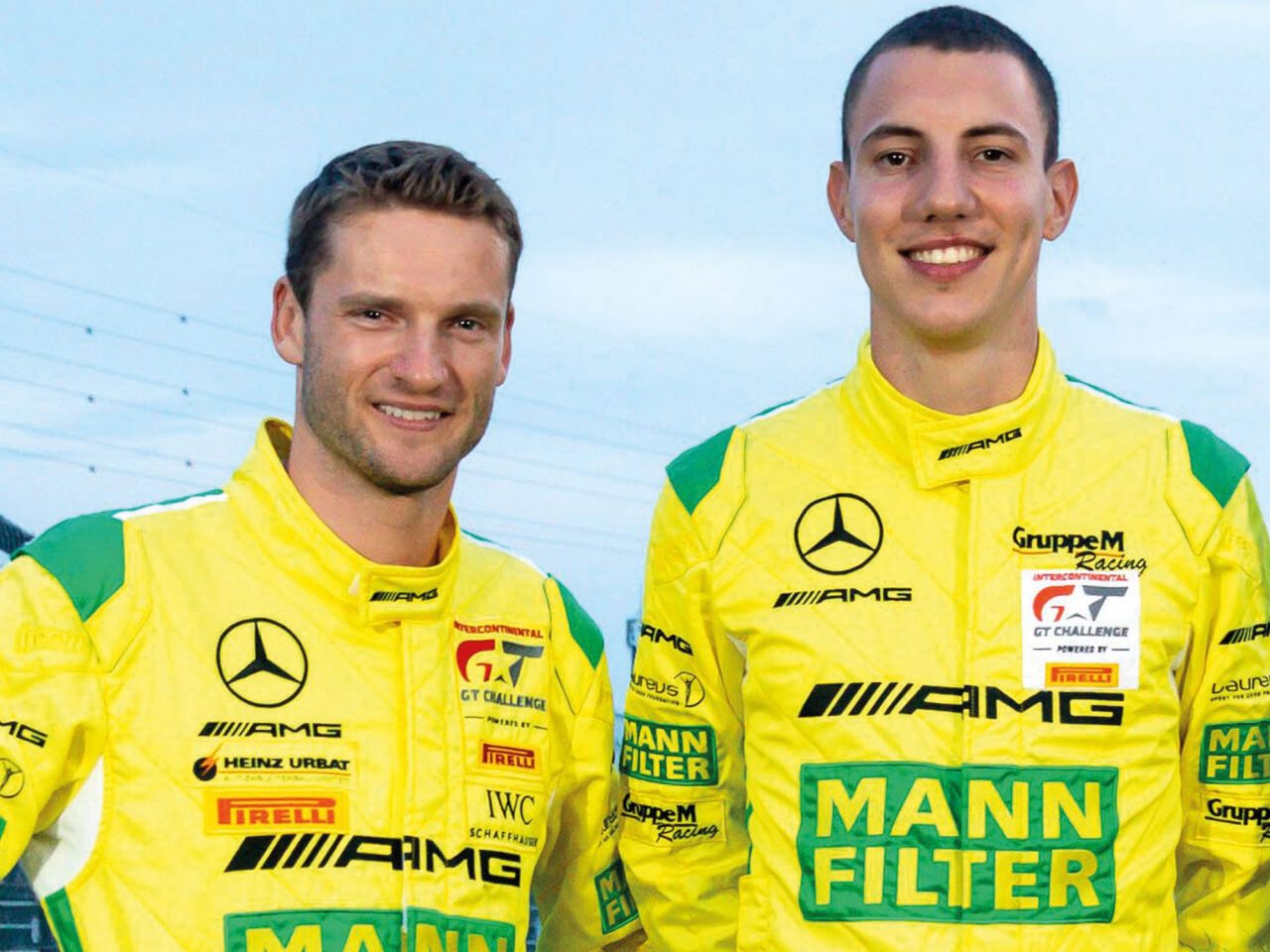 Mamba drivers Engel/Marciello (from left)
Sydney, January 30th 2023 – For the third time, premium filtration brand MANN-FILTER is once again starting the 12-hour race on the legendary Mount Panorama Circuit in Bathurst (3 – 5 February). Mount Panorama is unique in its rural setting. The route is 6.213 km long with a vertical drop of 174 m and climbs with gradients of up to 16%. The course runs along public roads that are closed for the racing event. Meeting a kangaroo during the race is something already happened and makes this race one of a kind.
Mercedes-AMG Team GruppeM Racing is officially back in the Intercontinental GT Challenge "Powered by Liqui-Moly" (IGTC) as a performance AMG Customer Sports Team. After successful victories in previous years including with MANN-FILTER in 2019, the racing team is looking forward to the new 2023 season.

The 'Town to Track' parade will again take place on Thursday, 2nd February which will see the full field drive from the circuit to Bathurst. Beginning at 10:30am local time, the cars will be on show in the town center.

On-track action starts on Friday, 3rd with four practice sessions for the Bathurst 12 Hour. A further two practice sessions will take place on Saturday, 4th. Qualifying is split into two parts. That will set the grid from 11th position onwards, but also decide which cars make it into the Top 10 Shootout which will be held across two segments: the bottom half of the top 10 to run first, followed by the quickest five cars last. The traditional 5:45am start time for the 2023 Bathurst 12 Hour is set for Sunday, 5th.
Driver Voices:

Raffaele Marciello: In Bathurst mistakes can happen fast, so full focus is especially needed. The competition is high, we all have the same target, we will need to fight hard.
Maro Engel: Bathurst is absolutely amazing; I am looking forward to this track the most. To me it is another level of craziness, comparable to Macau and the Nordschleife at Nürburgring / Germany.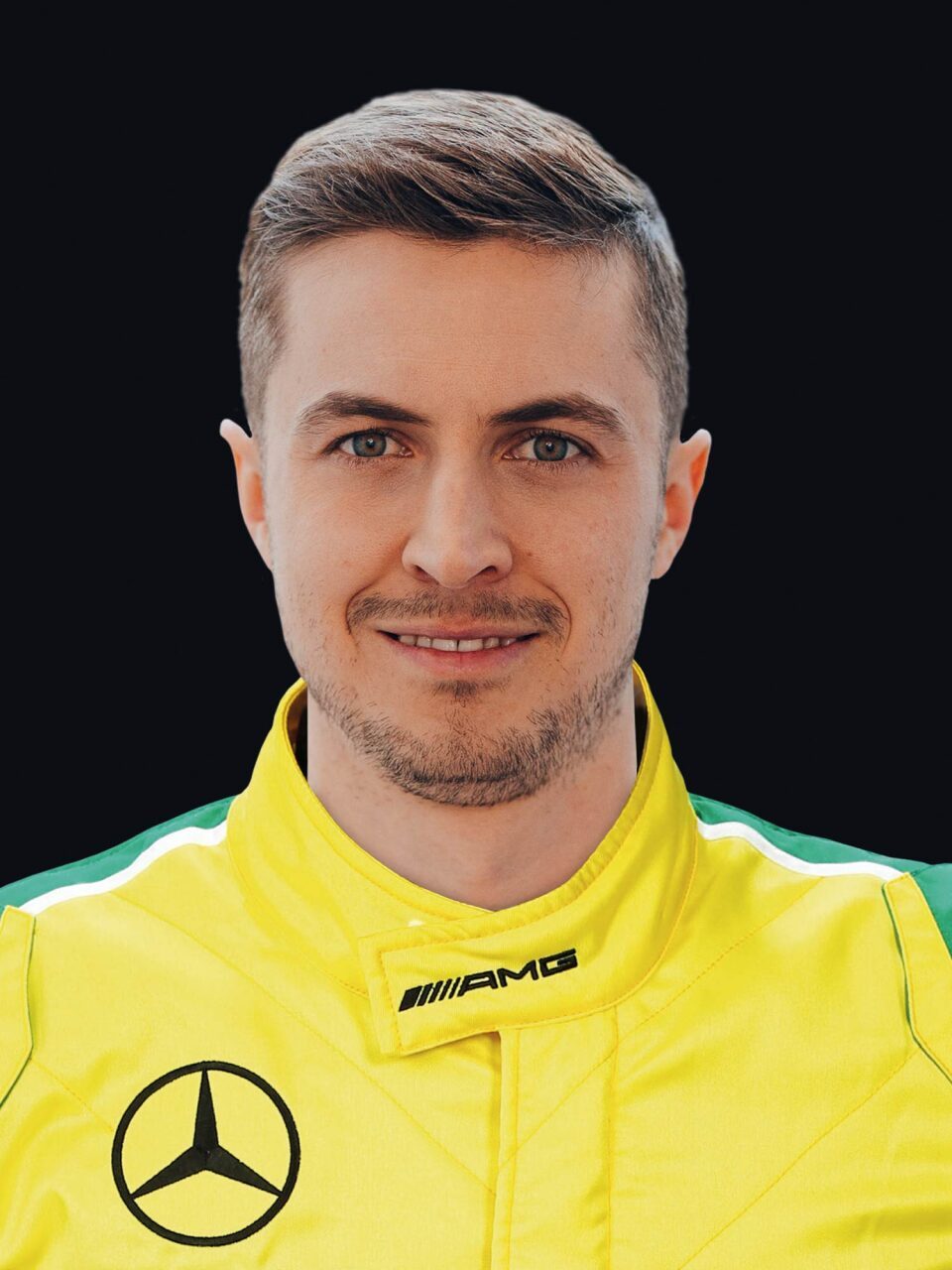 Mamba driver Mik Grenier
Mik Grenier: It will be a special race as it's the return of the pro class and it's a race everyone wants to win. It belongs to the best races in the world.
Kenny Chen, Team Owner, GruppeM: We are delighted to be once again joining forces with our fantastic partners Mercedes-AMG, MANN-FILTER and Tarmac Works, for a full-on onslaught at the 2023 International GT Championship. With sponsors such as MANN-FILTER who showcase the very best in global automotive aftersales products we thank them for their trust in us again this year.

For our 20th year of motor racing, we are really looking forward to getting back to endurance racing of IGTC around the globe. And we are really excited working with our old friends Maro, Lello and Mik, starting at Bathurst. Bathurst is one of those truly unique races. We have been there twice, both times coming so close to victory. We really love it and we will be putting in maximum effort to get our "Mamba" on the top of the podium!

For Motorsport fans at home: local audiences will be able to watch the race live on Fox Sports and Kayo Sports, as well as on the Seven Network and 7plus around Australia.

Fans on site can drop an Instagram message to @mannfilter_official and stop by on Friday to get an exclusive MANN-FILTER fan special with a behind-the-scenes look at the box. 

About MANN+HUMMEL
MANN+HUMMEL is a world leader in filtration technology. The Group's headquarters is in Ludwigsburg, Germany. Through its two business fields, Transportation and Life Sciences & Environment, it develops intelligent filtration and separation solutions to enable clean mobility, clean air, and clean water. This is how the family-owned company founded in 1941 is making an important contribution to a clean world and the sustainable use of limited resources. In 2021, the Group achieved sales of 4.2 billion euros, and it has more than 23,000 employees at over 80 locations. EUR.

Further information about MANN+HUMMEL is available at https://www.mann-hummel.com