MANN-FILTER is back at the Intercontinental GT Challenge 2023
Race participation on a Mercedes-AMG GT3 with partner GruppeM Racing for the second time. Strong driver trio with Maro Engel, Mik Grenier and Raffaele Marciello.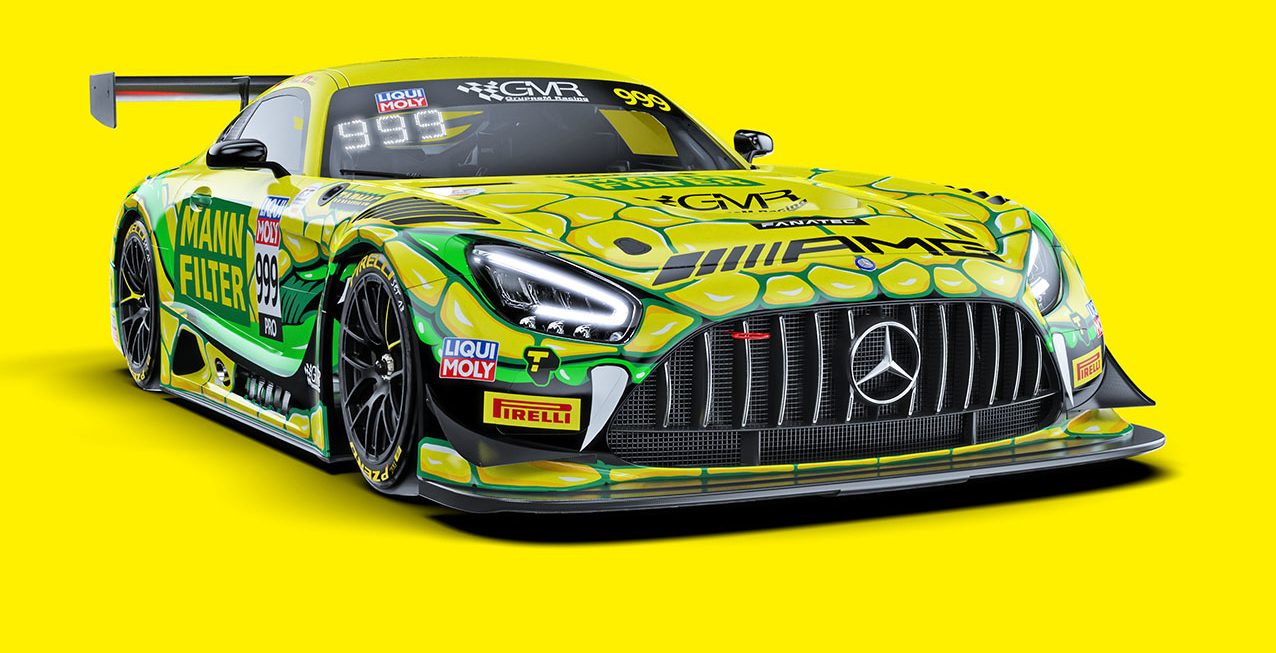 The MANN-FILTER Mamba for the Intercontinental GT Challenge at Bathurst
Ludwigsburg/Germany, January 25th 2023 – This year, global filter brand MANN-FILTER is once again partnering with GruppeM Racing for the 2023 Intercontinental GT Challenge (IGTC). This challenge kicks off the new season on February 5th with the 12-hour race on the legendary Mount Panorama Circuit in Bathurst, Australia. Followed by spectacular 9-hour Kyalami on February 25th, famous 24h Spa on July 1st, Indianapolis 8-hour on October 6th and ending the year with stunning Gulf 12 hours in Abu Dhabi on December 10th. Five endurance races on some of the most beautiful and spectacular circuits in the world are part of this championship held on all continents.
MANN-FILTER, the premium filtration brand in the automotive aftermarket of the MANN+HUMMEL Group headquartered in Ludwigsburg, Germany, is also facing up to the tough competition in the IGTC. A top-class Mercedes-AMG GT3 entered by GruppeM Racing in the remarkable yellow and green Mamba design will be part of this global tour.

The racing bolide will be piloted by three strong AMG drivers. The 29 year old Swiss ADAC GT Masters Champion and MANN-FILTER expert Raffaele Marciello knows to drive the Mamba. Marciello wants to start 2023 as his last year ended – winning! With him on the car Maro Engel, 37, from Germany who is also very well known in the yellow-green world and who already competed for MANN-FILTER in 2019 exactly in this series with the same team. The trio will be completed by AMG pilot Mik Grenier, 30, from Canada who got his first AMG year in 2022 together with GruppeM Racing in the famous DTM series.
Raffaele Marciello is looking forward to the series: "IGTC is THE pinnacle of all GT races with the best manufacturers, the best teams and the best drivers, competing in this series. Each individual race on this agenda is a highlight for its own. You need to be in your best performance to have a chance to win."

His German team mate Maro Engel looks back to the last season together with MANN-FILTER: "Great memories of racing the Mamba in 2019 with GruppeM in Suzuka at the IGTC. We finished 2nd. It was a fantastic event with a very tough race and a strong performance, let´s build on that and go higher".

"It will be special to drive for MANN-FILTER. Since I started GT racing I followed the yellow green car winning races with AMG and it always looks special on track with so many fans on-site.", Canadian Mik Grenier completes.

MANN-FILTER Sponsoring responsible Filippina Manou is having high expectations in this liaison: "It is great to be able to reach the target group of car and racing enthusiasts globally with our commitment through MANN-FILTER to the Intercontinental GT Challenge. For us, motorsport remains a tool that emotionalizes and further strengthens our brand. At MANN-FILTER we have made it our mission to set the benchmark for live performances. To have the chance to prove this on the racetracks worldwide is incredibly exciting. Having GruppeM Racing as a partner again in this series is a good feeling. The team has proven in the past that this series suits them very well."

Motorsport fans can follow the endurance spectacle per Live Stream and Live Timing on www.intercontinentalgtchallenge.com as well as on our Social Media channels @mannfilter_official on Instagram and Facebook MANN-FILTER International.

About MANN+HUMMEL
MANN+HUMMEL is a world leader in filtration technology. The Group's headquarters is in Ludwigsburg, Germany. Through its two business fields, Transportation and Life Sciences & Environment, it develops intelligent filtration and separation solutions to enable clean mobility, clean air, and clean water. This is how the family-owned company founded in 1941 is making an important contribution to a clean world and the sustainable use of limited resources. In 2021, the Group achieved sales of 4.2 billion euros, and it has more than 23,000 employees at over 80 locations. EUR.

Further information about MANN+HUMMEL is available at https://www.mann-hummel.com