MANN-FILTER Mamba debut at Norisring!
With its first DTM race victory in the bag, the Mercedes-AMG MANN-FILTER team is ready to continue on the road to success at Norisring.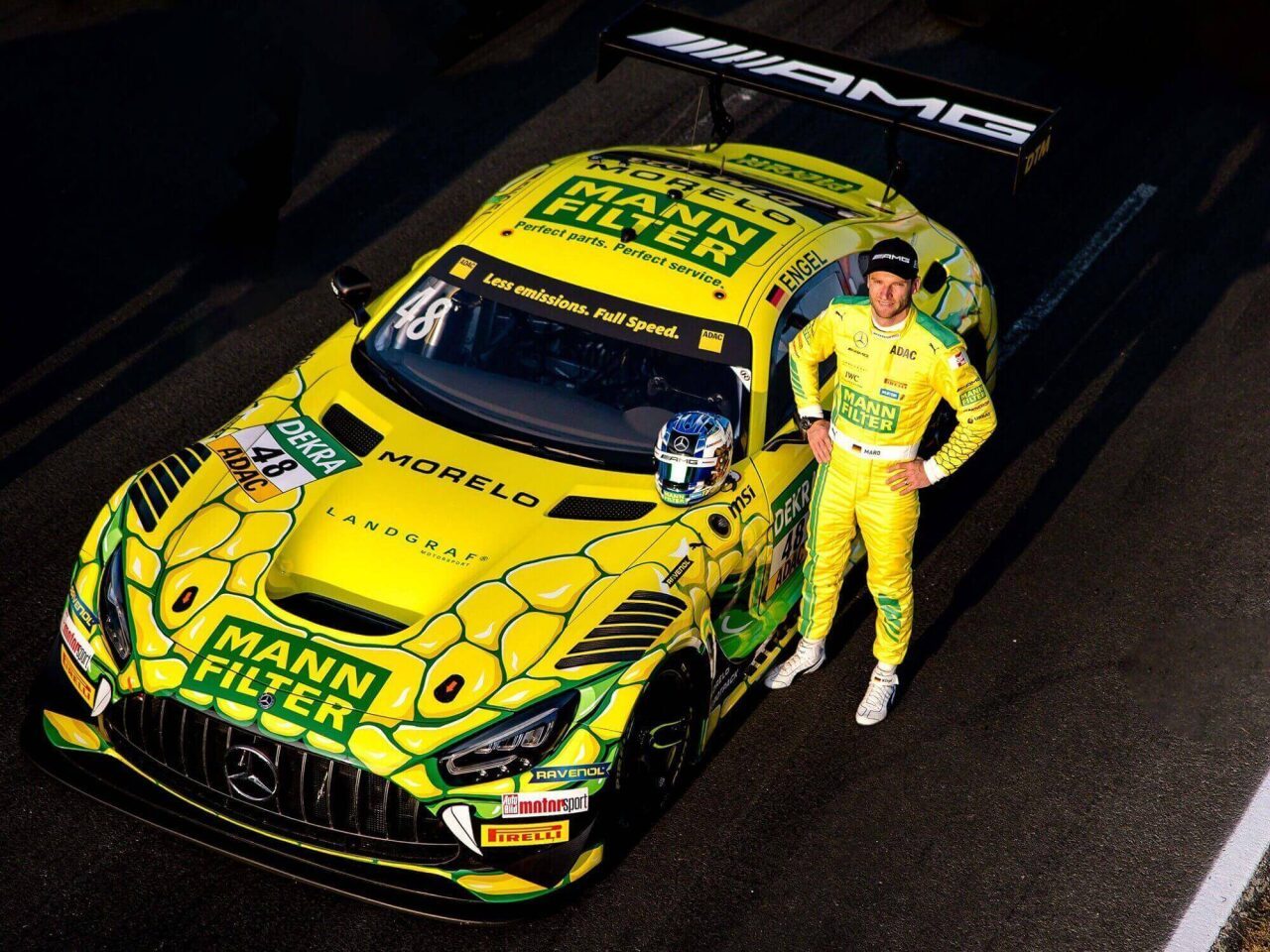 Maro Engel and MANN-FILTER Mamba
Ludwigsburg, July 5, 2023 – The next race weekend (July 8-9) will see the DTM celebrate its season highlight at Nuremberg's Norisring street circuit. For MANN-FILTER Mamba this means breaking new ground. Another debut in this motorsport season, where team spirit and perfection must be combined in order to take home as many points as possible.

Norisring is very unforgiving of mistakes

It was just a few days ago that the Mercedes-AMG MANN-FILTER team triumphed in a spectacular first heat in Zandvoort. The impressive victory has inspired team members and sparked hunger for further success. The race weekend at Norisring is a new challenge, as it is the first time that the Mamba will compete in a race on this track. Both drivers and the team are highly motivated and ready to face the course steeped in tradition.

The street circuit, also affectionately known as the "Franconian Monaco," has a lot going for it – at just 2.3 kilometers in length, it is the shortest circuit on the DTM calendar. Located at the heart of the city of Nuremberg, where cars are usually parked and people go for walks every day, the historic square is transformed into a race track a few days before the event. Stands and crash barriers are set up, and a temporary pit area created. The barriers used as track boundaries are so close that there is virtually no space for run-off zones. Another famous feature is the "Wall of Fame", where the drivers come so close to the adjacent wall at the exit of the narrow right-left chicane that the right-hand exterior mirror only misses the wall by millimeters. 
Narrow chicanes, a lack of run-off zones and closely positioned crash barriers present challenges like no other race track. Norisring is known for being very unforgiving of mistakes. This makes it all the more important for the MANN-FILTER team to really focus on "perfection" next weekend, in the truest sense of the word.
"As a street circuit, Norisring is a highlight in the calendar," team manager Brice Brosi admits happily. "A place bursting with tradition where a lot of stories have been written. It has seen races that have had a decisive influence on winning the title. And we want to put the Mamba's mark on the Norisring! We were strong in Zandvoort, but of course we can do even better. Everyone in the team is keen to release the Mamba and show the world what we are made of. Norisring is very short and the lack of run-off zones means there is no room for mistakes. We need to get through cleanly and do what we do best. We are looking forward to welcoming all our fans and hope to be able to offer a cool show in Nuremberg. The team is on fire and I hope all the MANN-FILTER fans will be too!"

More than 100,000 spectators expected

Norisring is also known for its many fans and the hot weather. Well over 100,000 spectators flock to the well-known race track in Franconia every year. With summer temperatures of around 30 degrees, the asphalt is almost on fire.

The fan atmosphere is particularly special. Spectators get closer to their idols than anywhere else at Norisring. The stands are set up close to the track and anyone strolling through the paddock in the evening will soon strike up a conversation with drivers and team members.

Mercedes-AMG Performance driver Maro Engel (37, Germany), who already knows the circuit like the back of his hand from his earlier DTM days, is particularly looking forward to this spectacle: "our last race weekend in Zandvoort was very successful and we want to use this victory as a boost at Norisring. We can look forward to the highlight of the season! It's always very special to compete on this street circuit, which is very different from all the other race tracks on the calendar. It goes without saying that we hope for a great deal of support from all Mamba fans who have been very strongly represented in their yellow shirts so far. The support is huge and we are already looking forward to it! We want to build on our recent success as much as possible and fight for victories and podium places. However, we also have to stay realistic, keep our feet on the ground, and wait for the training sessions to see where we stand."

Watch out! Competitions as a thank you for loyal support

For the season highlight, MANN-FILTER fans, big and small, can also take part in a promotion or two. Hands-on motorsport is the slogan. During the pitwalk, everyone has the opportunity to catch a glimpse of the pit, grab a giveaway and ask MANN-FILTER driver Maro Engel interesting questions during the many autograph sessions.

This time, MANN-FILTER is also showing fans some appreciation with a competition or two, as sponsoring officer, Filippina Manou, reveals: "this is the Mamba's first time on this track and in this region. I am very excited to see what it will be like in Nuremberg. Fans can look forward to a major appreciation campaign on site. Watch out for our social media activities! There will be a competition or two in which you can win some motorsport memorabilia."

Anyone not already following us should add us on Facebook and Instagram as quickly as possible.

MANN-FILTER Mamba in Beast Mode on new territory

The upcoming DTM racing weekend at Norisring promises exciting action and tough battles on the track. Hands-on motorsport across the entire site, creating a real family atmosphere. The MANN-FILTER Mamba strives to build on its successes and to continue to fight its way to the top in the overall rankings. All fans are warmly invited to accompany the whole team on their journey and to keep an eye on social media channels so as not to miss any opportunities to win or catch up on background stories.

As usual, both heats will also be broadcast live on ProSieben, a German TV channel.

About MANN+HUMMEL
MANN+HUMMEL is a world leader in filtration technology. The Group's headquarters is in Ludwigsburg, Germany. Through its two business fields, Transportation and Life Sciences & Environment, it develops intelligent filtration and separation solutions to enable clean mobility, clean air, and clean water. This is how the family-owned company founded in 1941 is making an important contribution to a clean world and the sustainable use of limited resources. In 2021, the Group achieved sales of 4.2 billion euros, and it has more than 23,000 employees at over 80 locations. EUR.

Further information about MANN+HUMMEL is available at https://www.mann-hummel.com