MANN-FILTER rises the challenge at the Kyalami 9 Hour
The proven driver trio Maro Engel (GER), Mik Grenier (CAN) and Raffaele Marciello (SUI) start the yellow green Mamba also at the Kyalami 9h in South Africa.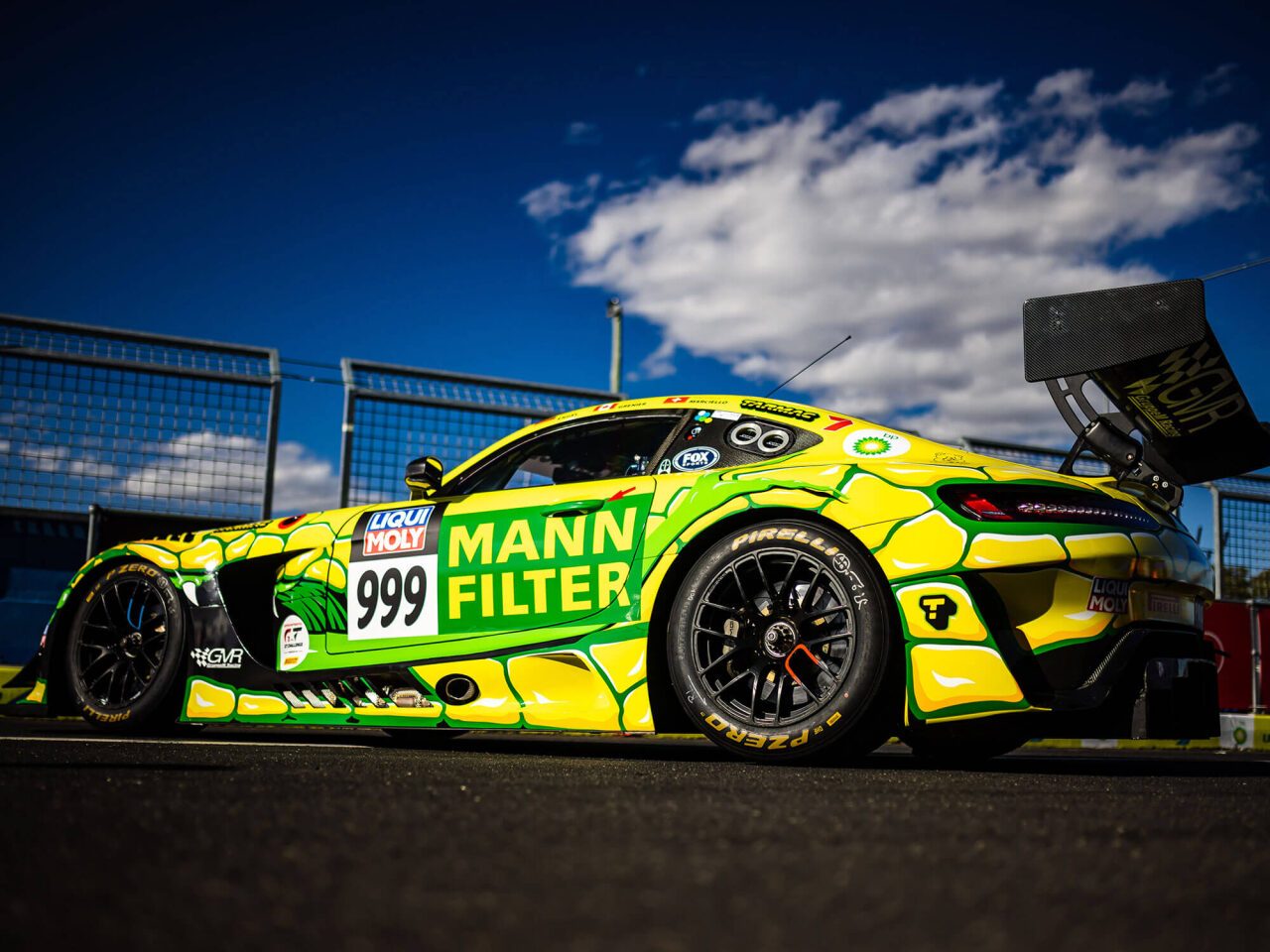 MANN-FILTER Mamba #999
Ludwigsburg/Johannesburg, February 20th 2023 – After a narrowly missed victory at the 12h Bathurst, the premium filtration brand MANN-FILTER and its partner GruppeM Racing will now compete in the second round of the Intercontinental GT Challenge at Kyalami. On February 25th the Mamba will bite on the 16-turn, 4.522km legendary Kyalami Grand Prix Circuit with its sweeping, fast sections and tight, technical corners.
The Mercedes-AMG Team GruppeM Racing is very much looking forward to the new challenge, wants the strong performance from Bathurst to be retrieved and hold to the end to be able to drive the victory.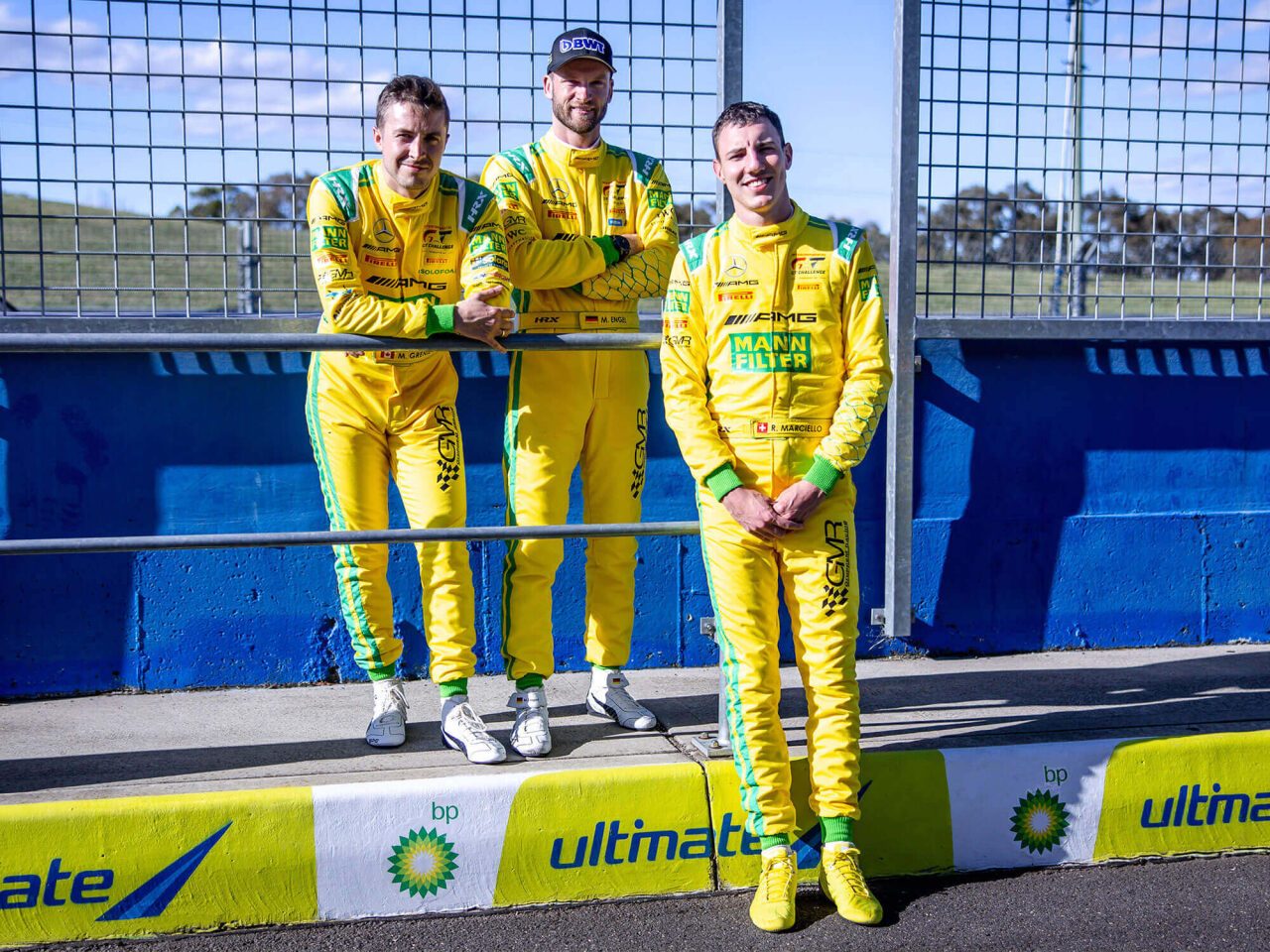 Mamba drivers Grenier/Engel/Marciello (from left)
Driver Voices:
Raffaele Marciello: To me the goal is a back-to-back win. With our lineup I see very good chances in Kyalami. Once there are not so many cars signed, the spectators can look forward to a lot of speed and few safety cars.
Maro Engel: Kyalami in South Africa has a lot of history. Former F1 track which is located quite high with over 1.500m. Weather is key in Kyalami and heavy rain wouldn´t be a surprise at all.

Mik Grenier: It will be my second time there. Our car suits well the track so I expect that we can fight for the win again and build on what we have started in Bathurst.

Qualifying sessions start on Friday, 24th February and decide the Top Ten Pole Shootout. All eyes will be on the racetrack from 1pm on Saturday February 25th, when the Kyalami 9 Hour begins.
Various events besides the race will take place such as the Kyalami 9H Motor Fest, held from 21st to 25th February 2023, with family orientated, motoring enthusiast and industry related activities

Motorsport fans at home can stream the event live, free and unrestricted, beginning from Friday's Pre-Qualifying session on SRO's GT World YouTube channel as well as on IGTC's website.

About MANN+HUMMEL
MANN+HUMMEL is a world leader in filtration technology. The Group's headquarters is in Ludwigsburg, Germany. Through its two business fields, Transportation and Life Sciences & Environment, it develops intelligent filtration and separation solutions to enable clean mobility, clean air, and clean water. This is how the family-owned company founded in 1941 is making an important contribution to a clean world and the sustainable use of limited resources. In 2021, the Group achieved sales of 4.2 billion euros, and it has more than 23,000 employees at over 80 locations. EUR.

Further information about MANN+HUMMEL is available at https://www.mann-hummel.com